Administrative and Client Care Staff
Our Administrative and Client Care Staff provides support to our clients and health care team. They are happy to speak with you regarding hospital services, fees, animal care and treatment in accordance to South Novato Animal Hospital policies. They will also help you with the purchase of products such as food and medications. Of course they are always available to help you schedule an appointment for your pet either by phone, in person, or online. Please feel free to contact our Customer Services Representatives at any time during our regular business hours.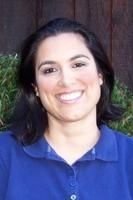 April - Operations Supervisor
April is our Operations Supervisor and is in charge of the day-to-day business of the hospital. She has been with our practice since 2004. April resides with her husband, three children, and a darling kitty named Bruce. In her spare time, she loves hanging out with her family, going to church activities, and visiting the "Happiest Place on Earth", Disneyland.
Heather - Client Care Supervisor
Heather is the CSR Supervisor here at the South Novato Animal Hospital. She is CPR certified, and is studying for her practice management degree. She has two cats, Bella, who is 18 and Bocephus, who is 7, as well as a terrier mix, Wyatt Earl, who looks like a meerkat. She lives with her mom, Barbara and her father, Troy, in Petaluma. In her free time, she likes to read, write, hike with Wyatt, and she is obsessed with the color pink.
Beth - Client Care Representative
Beth is one of our Client Care Representatives here at South Novato Animal Hospital. She has been here since the beginning of 2018 and she has worked with animals for many years. She has 2 dogs, Trixie and Maya and one cat, Batman. She also has a unique obsession with buffalo or as she likes to call them, Viking Cows.
Melanie - Fear Free Certified Room Technician
Melanie is one of our fear free certified room technicians who occasionally assists our nurses in the treatment room. She has her controlled substance permit, and CPR and BLS certifications in both humans and animals. She was born and raised in the bay area and graduated from Sac State in 2014 with a BS in Forensic Biology and a minor in chemistry. Currently in school working towards the nursing program. Melanie has 3 crazy dogs, enjoys painting and has an unhealthy obsession with all things dinosaur and Batman.
Request Appointment
Scheduling your next appointment is easy! Click, fill out the form, and we will confirm your appointment within 24 hours!