Technicians and Assistants
At South Novato Animal Hospital we have both Registered Veterinary Technicians (RVT) and Veterinary Assistants. An RVT is a licensed professional who has passed the examination for certification and holds a current California license to practice as an RVT. There are very specific job tasks that may be delegated to only an RVT by a veterinarian. More information regarding the Practice Act can be viewed at the Veterinary Medical Board website,
www.vmb.ca.gov
.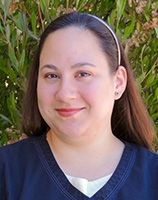 Ana - RVT

Ana attended Bel Rea Institute of Animal Technology and graduated with an AA in Veterinary Technology in 2002 and has worked at SNAH since 2007. She has worked with large animals, veterinary dentistry, and in ER medicine. Her professional interests are in anesthesia and dentistry. At home, Ana lives with her dog Sandy Cheeks and her three cats Halo, Uriel, and Suki-Larry-Billy-Bob. Her hobbies include photography and volunteer work.

Amanda - RVT, FFCP, Cat Friendly Advocate
Amanda has an AA degree in Natural Science and has worked at SNAH since 2010. In 2012, Amanda helped SNAH become Novato's 1st Cat Friendly Practice and is our AAFP Cat Friendly Advocate. As SNAH's first Fear Free Certified Professional, she is currently pursuing her RVT specialty in behavior. She lives with her husband, daughter, and a rescue turtle named Elizabeth. Amanda is an avid foodie and always knows of something good to eat!
Fay - Veterinary Assistant, FFCP
Fay is currently a Veterinary Assistant as she furthers her education in the RVT program at Santa Rosa Junior College. She first came to SNAH in 2012 and lives in Freestone with her husband Henry and their four horses, seven turtles, four cats, two birds, and a dog.
Cari - RVT, FFCP
Born and raised in the Bay Area, Cari has worked in veterinary medicine since 1993. Through the years, She has worked in emergency, specialty surgery and preventative medicine services. She moved to Novato in 2011 with her two sons and their dog Sister Grace and joined SNAH in summer 2015. When not working at SNAH, Cari volunteers at Guide Dogs for the Blind and enjoys other interests such as hiking, kayaking, and attending many art, music and theater events.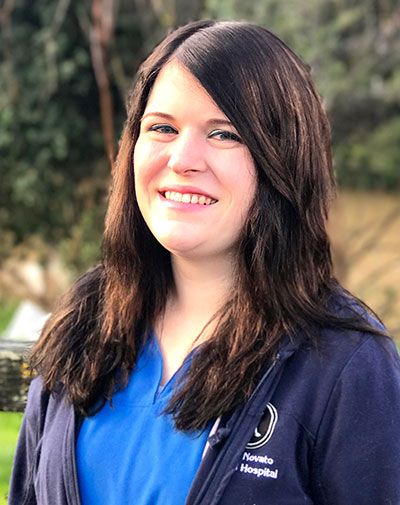 Ashley - Assistant
Ashley started with Nor Cal Animal Medical Group in 2016. She has been a veterinary assistant since 2012 and has working/helping animals in shelters for nearly a decade. Ashley comes from a family who has worked in the veterinary field and has encouraged her to work with animals ever since she was four years old. She is currently planning to go back to school to become a registered veterinary technician. Ashley has two kitty cats, one is a 4-year-old Siamese and the other a 15-year-old Tortoiseshell and she also has a daughter. When she's not working, she likes going for walks and enjoying nature, and of course helping animals.
Request Appointment
Scheduling your next appointment is easy! Click, fill out the form, and we will confirm your appointment within 24 hours!